Did anyone else catch this?
Chris Dorner's Wallet Found – Twice!
Wednesday, February 13, 2013 9:23
Chris Dorner's wallet has been found now....twice. First we learn from USA Today that Chris Dorner's wallet has miraculously been found within the charred remains of the cabin that he had been hiding out in and presumably died in. However, Chris Dorner's wallet was also found last Thursday, according to this story in the LA Times. This guy Dorner has the worst luck with losing his wallets! I'm sure the LAPD is thankful. First, from USAToday:
Investigators were picking through the rubble of a burned-out cabin in California's San Bernardino Mountains on Wednesday, trying to piece together details of the violent last stand for a fugitive former Los Angeles police officer whose life apparently ended hours earlier in a barrage of bullets and blazing fire.
The San Bernardino County Sheriff's Office said charred human remains were found in the rubble where Christopher Dorner is said to have been cornered Tuesday. "We have reason to believe that it is him," sheriff's spokeswoman Cynthia Bachman said.
A wallet with a California driver's license bearing the name Christopher Dorner also was found, the Associated Press reported, citing a law enforcement official who was briefed on the investigation but declined to be named because of the ongoing probe.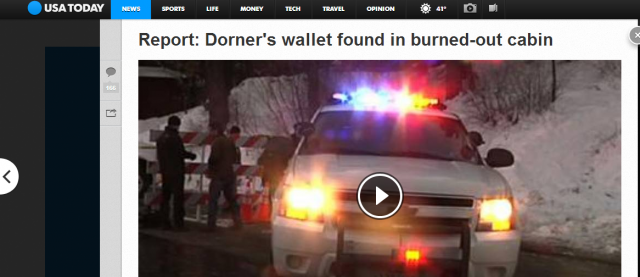 So, they've found Chris Dorner's wallet in the burned out cabin where they pinned him down. Fortunately for them, the wallet survived the fire somehow. This event is quite similar to the passport found in the charred rubble of the World Trade Center after 9/11:
"According to ABC News and the Associated Press, the passport of hijacker Satam Al Suqami was found a few blocks from the WTC."
Strangely enough, Christopher Dorner's wallet was also found last Thursday as well, after Chris allegedly tried to steal a boat in San Diego. From the LA Times story.:
Dorner allegedly attempted to steal a boat in San Diego and, after subduing the captain, said he was taking the vessel to Mexico, according to an affidavit filed with a criminal complaint in federal court in Los Angeles. Dorner is accused of telling the captain that he could recover his boat in Mexico.
"The attempt failed when the bow line of the boat became caught in the boat's propeller, and the suspect fled," according to the affidavit by inspector U.S. Marshal Craig McClusky.
After authorities interviewed the boat captain early Thursday,
they found Dorner's wallet and identification cards "at the San Ysidro Point of Entry" near the U.S.-Mexico border. That same day, a guard at the Point Loma Naval Base told authorities he had spotted a man matching Dorner's description trying sneak onto the base, according to the court records.
More below...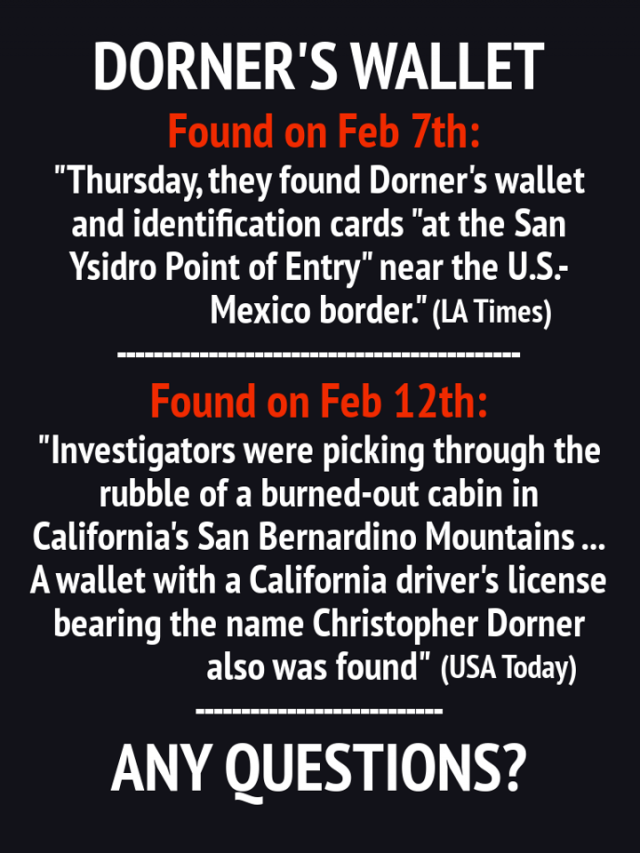 Who and what are we to believe? The CIA's Anderson Cooper tells us Chris is dead. We've heard that his wallet was found in the fire from USA Today. He MUST have been inside the cabin when it burned to the ground if his wallet was inside, right? It's quite amazing to me that Chris's wallet survived the fire. Almost as amazing as them finding his wallet, twice.


And here's a THIRD WALLET:
LAPD: Dorner hunt still on in Big Bear
9:09 a.m.Feb. 12, 2013
San Bernardino County Sheriff's officers Ken Owens, center, and Bernabe Ortiz search a home for former Los Angeles police officer Christopher Dorner in Big Bear Lake, Calif, Sunday, Feb. 10, 2013. The hunt for the former Los Angeles police officer suspected in three killings entered a fourth day in snow-covered mountains Sunday, a day after the police chief ordered a review of the disciplinary case that led to the fugitive's firing and new details emerged of the evidence he left behind. (AP Photo/Jae C. Hong) — AP
LOS ANGELES — The search for accused cop-killer Christopher Dorner continues to focus primarily around Big Bear, even as authorities respond to tips indicating he might have fled to Mexico, a Los Angeles police official said Tuesday.
An investigator working the case said that a wallet and identification cards belonging to Dorner were recovered last week at the San Ysidro Port of Entry, according to a federal complaint filed Thursday in Santa Ana.
That contradicts with what authorities said on Thursday, when it was reported that a shuttle bus driver turned over Dorner's wallet, LAPD police badge and photo ID to San Diego police after a passer-by found them near Lindbergh Field. (empahasis by Silly Sheeple)
San Diego Police Chief Bill Lansdowne said Tuesday that the items were found in the middle of Pacific Highway and Laurel Street.
Several items of Dorner's police gear were also found early last week behind National City police headquarters.
Lansdowne said San Diego officers are "actively working" with Los Angeles and Irvine police departments on the Dorner case, "but we have no credible information that he's in San Diego."
"We're still getting calls from people who think they saw him," Lansdowne said. "People are very concerned."
He said his agency received about eight reports of possible Dorner sightings on Monday, and each was checked by a sergeant with a couple of officers. None was valid.
More than 1,000 tips have poured in about Dorner, including that he might be in Mexico, authorities said. Some reported sightings of Dorner have been credible, but "we will follow all of them," said LAPD Lt. Andrew Neiman said at a media briefing Tuesday.
Neiman said reports that Dorner was shown on a security camera to have brought scuba tanks to be refilled at a Torrance Sports Chalet on Feb. 1 are not confirmed.
"There's no telling why he was purchasing scuba gear," Neiman said.
Dorner served in an underwater warfare unit while in the Navy reserves.
Likewise, Neiman said investigators have not confirmed a report that Dorner spent a night in a Manhattan Beach hotel after allegedly shooting to death the daughter of a retired Los Angeles police captain, and her fiancé, in Irvine on Feb. 3.
Neiman said the number of tips has swelled by 400 percent since a $1 million reward was posted Sunday for information that leads to Dorner's arrest. He described the process of checking out each one as "frustrating."
The lieutenant said the last time law enforcement saw Dorner was when he allegedly shot three officers early Thursday morning, in Riverside and Corona, killing one. Dorner's pickup later was found burning in a remote spot in the Big Bear Lake area. Hundreds of officers combed the mountain and checked cabins one by one, through the weekend and on Monday.
"We found evidence he was there, based on that his vehicle was there," Neiman said. "Big Bear's still where we are looking."
The federal complaint, filed in U.S. District Court in Santa Ana, mentions a possible Dorner accomplice, identified only as "J.Y." It does not detail the relationship between the two.
The records show investigators were watching a property last Thursday in the San Bernardino Mountains owned by one of J.Y's family members.
Dorner was fired from the Los Angeles Police Department in 2008 for lying about another officer, and lost his appeals, saying it was others who lied about the incident. He posted a manifesto on Facebook warning that he was planning a killing spree targeting police until his name is cleared.
LAPD has reopened its investigation into Dorner's firing.