I know that we can come across as being really hard on law enforcement here at Silly Sheeple but we want our readers to understand that when harsh criticism is warranted, we bring it forth. On the other hand, when our public servants show genuine efforts in, well, serving the public we also want to show our appreciation for these acts of kindness. I've been in the fire service for 21 years now and have interacted with many, many LEO's in my career. I've seen kindness from some of them but I've also seen cold-hearted treatment enacted upon those who were undeserving. Learning to control emotion and act with dignity are not easy things to learn but we must command more of those to whom we have delegated the responsibility of protecting and serving ourselves and those we love. Fire, emergency medical and police often see and interact with people when they are having the worst days of their lives and we can choose to either lift up and make better or to make things even worse.
Officer Acerra chose the high ground and we commend him!
-Jason
____________________________________________________________________________________

By Bob Allen
08 May 2014
More Andy Griffith, less Rambo. Kudos to Officer Gaetano Acerra of Sumter, SC... well done.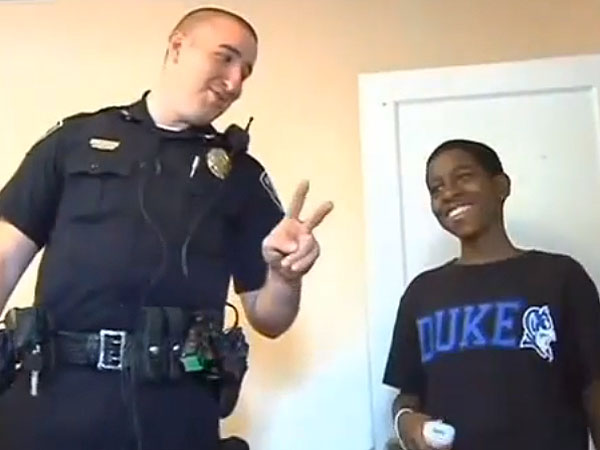 A Sumter, S.C. police officer recently went above and beyond the call of duty for a 13-year-old boy.
Last month, Cameron Simmons called police because he was upset after fighting with his mother and didn't want to live in the house with his family, according to WIS-TV.
Officer Gaetano Acerra responded to the call and tried to talk to him.
"I said, 'You have it good, you have a roof over your head,' " Acerra told the news station. "I told him I would try to help him out, and here we are now."
The officer brought him home, but soon realized some of the boy's hardships. Simmons didn't have a real bed or furniture for his bedroom.
wistv.com - Columbia, South Carolina |
"My heart went out for him. I thought the little things that he needed I could give him; to make him a happier kid."
A few weeks after the call, the officer showed up at Simmons' home with a truck-full of gifts including a bed, TV, desk, chair and a Wii game system that someone donated after hearing the boy's story.
Simmons, who was sleeping on an inflatable mattress, told Acerra that because of the new bed his back won't hurt anymore and was grateful for the gifts.
Capping it off, I love it that the story only came out because someone saw a picture posted to the officer's brother's Facebook page--it wasn't done to be noticed.
We need many more like Acerra, AND... many more of US need to be like this officer.
"A new commandment I give to you, that you love one another: just as I have loved you, you also are to love one another. By this all people will know that you are my disciples, if you have love for one another." —Jesus, the carpenter, as recorded in John 13:34-35